March 12 2014
4
12
/

03
/

March
/

2014
23:03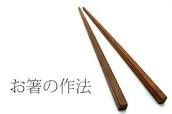 Chopsticks have been in use for more than 10.000 years. Chinese claim that the knife and fork are leftovers from barbaric cultures.
You won't master the use of chopstick right away, its like a work of art, all it takes is abit of practice. in Taiwan and Hong Kong its is said that the more spot you leave on the table, the more you enjoy your meal.
Experiment! Order something different, try different stir-fry and combine it witha Szechwan dish.
Try to pick up nuts and you'll be consider a master chopstick user.
1. The chopstick goes between the the tip of your thumb and the tip of your index and middle finger moving freely
2. The chopstickalways between the thumb and fore finger, it remain in a fused position.
So don't be shy try it.